Manage Google Ads (Adwords) Campaign
Why choose us?
Beat Your Competitors
Almost all the time being the first to have a call with a potential customer is a key to make him/her a real customer.
This means that you have to be the first one the customer sees in Google Results.
You know that there is only one 1st spot in Google Search results many competitors for this 1st spot (example on the image on the right).
The difference is made not only by who pays more but who is better in Google Ads (Adwords), that's why you need a Google Ads (Adwords) Certified Professional Consultant.
Increase your Profits (Generate Leads)
We can help you Increase your Profits by leading customers to you.
With Google Ads (Adwords) and Certified Professionals like us you can achieve it quickly.
Show Your Brand to the World (Brand Awareness)
If you are a startup or you need to remind people that your Brand exists Google Ads (Adwords) is a great advertising Network to be used (even better than the traditional ways of advertising).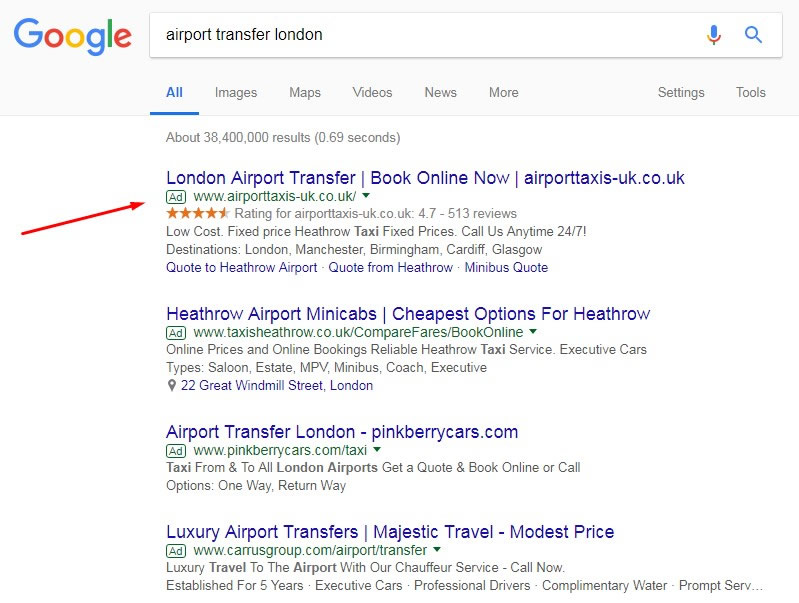 WE ARE GOOGLE PREMIER PARTNER:
When you need help managing your online advertising and bringing more efficiency to your business, you should work with a company that has been trained and certified by Google.
Google Premier Partners are the top partners with demonstrated Google Ads (AdWords) skill and expertise, who have met Google Ads (AdWords) spend requirements. They are the leading companies recognized by Google that manage higher spending and meet additional certification and performance requirements beyond the basic Google Partner level.
About Google Ads (Adwords)
Benefits of using Google Ads (Adwords)
Request a Free Google Ads (Adwords) Analysis